School History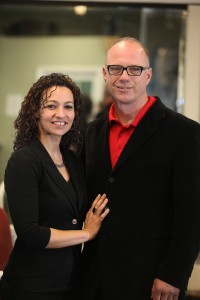 David is a 1996 graduate of Mr. Richard's Barber School in Auburn, Maine and received his instructor's license in 1998. He has been barbering for 18 years and has owned and operated 5 barbershops over those years.
Cynthia received her Cosmetology license in 2002 and crossed over to barbering in 2006 and received her instructor's license in 2008.  She has been barbering for 8 years.
The Caron's have been residents of Concord, NH since 1986. Partners in business and in marriage the Caron's love what they do. Their love and passion for the art of barbering lead them to open New England School of Barbering in 2007.  The school opened as a six-chair facility and has quickly grown to twelve.  The Caron's have maintained a small and intimate learning environment with students of all ages, as they strongly believe in quality and not quantity. They strive to keep teaching the art of barbering and continue an American tradition that almost faded away.
David & Cynthia are proud owners of American Barber Studios across from the Capitol in Concord, NH and American Barber Studios located at 14 Bridge Street, Henniker, NH.